It is my policy to produce books from natural and renewable materials that will have a minimum impact on the environment.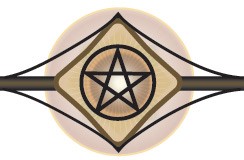 I use exclusively water-buffalo hides, cow hides, and goatskins from mature animals that have come to the end of their working life. No animals are bred and slaughtered solely for the purpose of producing leather for my books.

To tan leather I use a natural tannin wash as an alternative to the highly toxic chromium salts commonly used in tanning. This natural tannin dye occasionally leaves a small residue on the surface of the leather, and some dye may appear on your hands on first handling of a new book.This is entirely harmless, and will cease altogether on further handling when the dye stabilizes. I hope you will agree with me that this is a small price to pay for a method of production that avoids poisoning our environment.

My handmade paper is produced without the use of bleaches and other toxic chemicals commonly associated with paper production.It is my aim to produce books that meet the needs and wishes of the artists,art students, travelers and writers and poets who commonly purchase my books.
For that reason I am always interested to hear your comments, and any suggestions you have for improvements or for new products.